---
Expressed In:
Baculovirus
Protein Species:
Human
---
Contents
A representative Technical Data Sheet (TDS) is provided here. Please refer to the lot-specific TDS you will receive with your order for the lot-specific buffer contents and protein concentration.
Background
hnRNPA2B1 (Heterogeneous Nuclear Ribonucleoprotein A2/B1, also known as RNPA2; HNRPA2; HNRPB1; SNRPB1; HNRNPA2; HNRNPB1; IBMPFD2; HNRPA2B1) belongs to the A/B subfamily of ubiquitously expressed heterogeneous nuclear ribonucleoproteins (hnRNPs). The hnRNPs are RNA binding proteins and they complex with heterogeneous nuclear RNA (hnRNA). These proteins are associated with pre-mRNAs in the nucleus and appear to influence pre-mRNA processing and other aspects of mRNA metabolism and transport. hnRNPA2B1 includes two different isoforms A2 and B1. It is reported that hnRNPA2B1 is a nuclear ''reader'' of the m6A mark, acting as an adaptor that recruits the Microprocessor complex to a subset of precursor miRNAs, facilitating their processing into mature miRNAs.
Application Notes
Recombinant hnRNPA2B1-B1 protein is suitable for use in evaluation of protein-protein interactions and RNA binding assays.
Activity Assay Details: 75 pmol biotinylated m6A ssDNA oligos (5'-GTTGCCTGTTCGTGTTGG/m6A/ CTTGCCTGT-3') were incubated with hnRNPA2B1 protein in binding buffer including 25 mM Tris-HCl pH 7.4, 150 mM NaCl, 5% glycerol, 0.1% Triton X-100 for 3 hr at 4%deg;C. The DNA-hnRNPA2B1 compounds were incubated with streptavidin beads for 1 hr at 4C and pull-down complexes were run on SDS-PAGE gel, stained with Coomassie Blue. Biotinylated, unmethylated ssDNA oligos used as a negative control.
Protein Details
Recombinant hnRNPA2B1-B1 protein is the B1 isoform of hnRNPA2B1 and was expressed in a Baculovirus expression system as the full length protein (accession number NP_112533.1) with an N-terminal FLAG-Tag. The molecular weight of hnRNPA2B1-B1 is 38.4 kDa.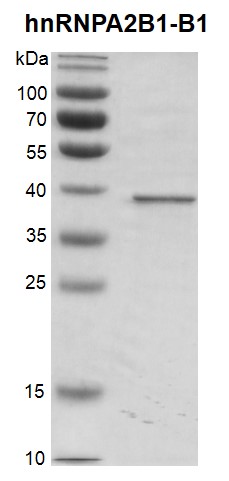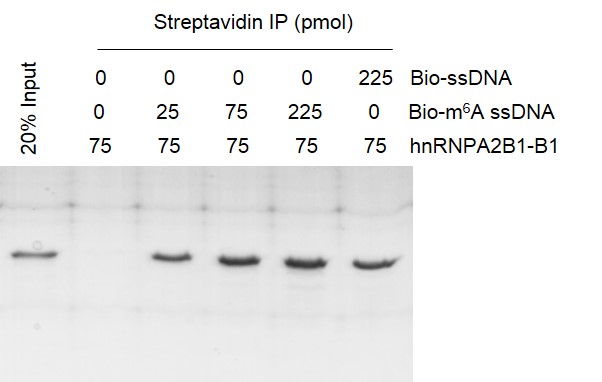 Storage
Recombinant proteins in solution are temperature sensitive and must be stored at -80°C to prevent degradation. Avoid repeated freeze/thaw cycles and keep on ice when not in storage.
Guarantee
This product is for research use only and is not for use in diagnostic procedures. This product is guaranteed for 6 months from date of arrival.
Technical Data Sheet
Recombinant hnRNPA2B1 protein
Data Thumbnails