Recombinant ABL2 (279-546) protein
Aliases: Abelson murine leukemia viral oncogene homolog 2, Tyrosine-protein kinase ARG
| | | | |
| --- | --- | --- | --- |
| Catalog No: 81338 | Format: 20 µg | $440 | Buy |
---
Expressed In:
Baculovirus
Protein Species:
Human
---
Contents
A representative Technical Data Sheet (TDS) is provided here. Please refer to the lot-specific TDS you will receive with your order for the lot-specific buffer contents and protein concentration.
Background
ABL2 is a non-receptor tyrosine-protein kinase that plays an ABL1-overlapping role in key processes linked to cell growth and survival such as cytoskeleton remodeling in response to extracellular stimuli, cell motility and adhesion and receptor endocytosis. It also coordinates actin remodeling through tyrosine phosphorylation of proteins controlling cytoskeleton dynamics like MYH10 (involved in movement); CTTN (involved in signaling); or TUBA1 and TUBB (microtubule subunits). In addition to, ABL2 can bind directly F-actin and regulate actin cytoskeletal structure through its F-actin-bundling activity. Which also involved in the regulation of cell adhesion and motility through phosphorylation of key regulators of these processes such as CRK, CRKL, DOK1 or ARHGAP35.
Application Notes
This product was manufactured as described in Protein Details. Where possible, Active Motif has developed functional or activity assays for recombinant proteins. Additional characterization such as enzyme kinetic activity assays, inhibitor screening or other biological activity assays may not have been performed for every product. All available data for a given product is shown on the lot-specific Technical Data Sheet.
Protein Details
Recombinant ABL2 (279-546) protein that includes amino acids 279-546 of human ABL2 protein (accession number NP_009298.1) with a N-terminal FLAG Tag. The molecular weight of the protein is 32 kDa.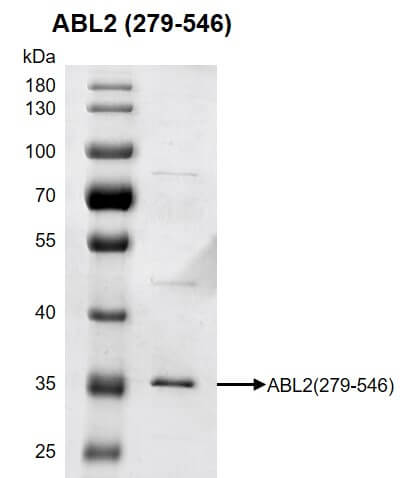 Storage
Recombinant proteins in solution are temperature sensitive and must be stored at -80°C to prevent degradation. Avoid repeated freeze/thaw cycles and keep on ice when not in storage.
Guarantee
This product is for research use only and is not for use in diagnostic procedures. This product is guaranteed for 6 months from date of arrival.
Technical Data Sheet
Recombinant ABL2 (279-546) protein
Data Thumbnails