Secondary Antibody Conjugates
Active Motif's secondary antibody conjugates offer an improved method for the detection of primary antibodies. Having developed many quality primary antibodies, we found that the quality of secondary antibodies was also key to producing superior results. We therefore offer these secondary antibodies, conjugated to HRP for detecting primary antibodies bound to their targets. To conjugate dyes or other labels to primary antibodies and proteins, we offer our Sortag-IT™ Labeling Kits.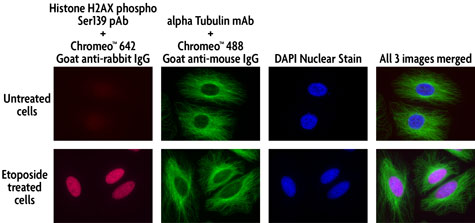 Figure 1: Multi-color staining of Phospho H2AX and tubulin using Chromeo 488 and Chromeo 642-labeled secondary antibodies in untreated and ETO-treated HeLa cells.
Active Motif's fluorescent ATTO dyes and fluorescent Chromeo™ 488, Chromeo™ 505 and Chromeo™ 494 dyes have been certified by Leica Microsystems for STimulated Emission Depletion (STED) microscopy, as they exhibited superior staining when compared to other fluorescent antibody conjugates. Active Motif offers a range of Sortag-IT labeling Kits to conjugate these fluors to our AbFlex® recombinant antibodies.